Nazanin Zaghari-Ratcliffe's family said they were "bewildered" that authorities had opened a new case against her just a month before she is eligible for early release.
The 38-year-old was arrested at Tehran airport in April 2016 as she was about to fly home with her two-year-old daughter Gabriella after a family visit.
The country's Revolutionary Guard claimed she was plotting to overthrow the regime, an allegation Mrs Zaghari-Ratcliffe denies.
They tried to get her to confess that she trained and recruited spies, her family said.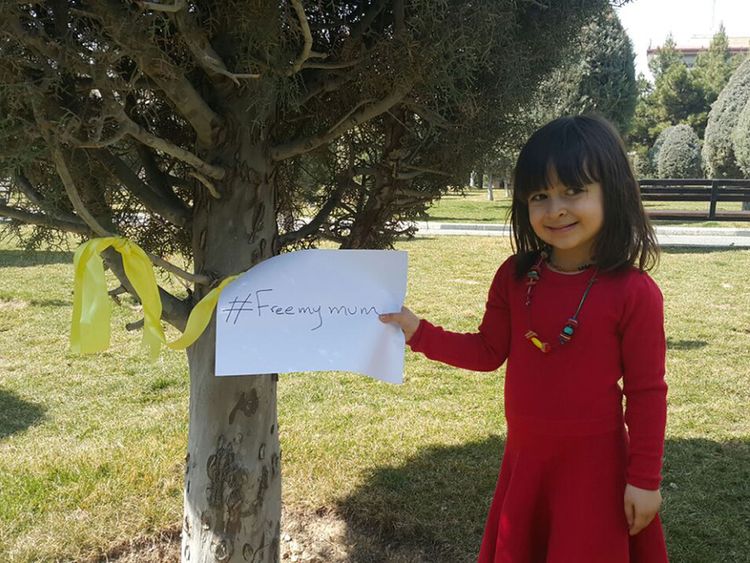 The latest charges claim the Thomson Reuters Foundation worker joined organisations working to topple the Iranian system, and that she once protested outside the London embassy.
Husband Richard Ratcliffe said the Revolutionary Guard was "inventing new charges to prevent her early release".
Mr Radcliffe said his wife had not been given access to a lawyer, while Iran also does not recognise her right to British consular assistance.
"It is not melodramatic to say what is happening to Nazanin is torture. Look at the impact on her. Justice must be done," he said.
Speaking to Sky News in August, Mr Radcliffe said his wife was in a "fragile state" and had seen a psychiatrist who diagnosed her with advanced depression.
According to the family's campaign, Mrs Zaghari-Ratcliffe said of the new charges: "I have always been honest with them about what I have done and who I worked for. I was not trying to overthrow the regime.
"I love my country. It is ridiculous. I have not done anything since I was sentenced. I have just been a prisoner in the corner, enduring quietly. What have they done this for?"
She added: "I am so tired. Recently I thought it was the beginning of the end. But now I am back to the beginning. My life is slipping away from my hands, and I can't do anything. I just want to come home."
The couple's north London MP Tulip Siddiq says the latest charges are an "outrage".
She has called for Foreign Secreatry Boris Johnson to take a tougher line and formally request Mrs Zaghari-Ratcliffe's release.
Mr Johnson broached the subject on the fringes of the UN General Assembly last month, and said progress in the UK-Iran relationship would depend to some extent on the resolution of the case.
The Prime Minister has also raised the issue, according to a Foreign Office statement in April.